How to work with Journeys#
With JuPedSim, directing agents towards exits and ensuring a smooth evacuation from the simulation area is straightforward and versatile. There might be scenarios where it's vital to navigate agents along various paths, thus creating diverse evacuation situations. Let's explore different routing strategies of agents using a simple geometric space - a corner.
JuPedSim manages routing by geometrically triangulating the simulation area. Without user-defined routing strategies, agents, for example, in a corner simulation, naturally move towards the inner edge of the corner. Look at this visualization where the given direction of each agent is shown by a red line. You'll observe all red lines lead towards the exit along the inner edge of the corner. While it seems logical, this path isn't always optimal and could result in a bottleneck, thereby slowing down the evacuation process.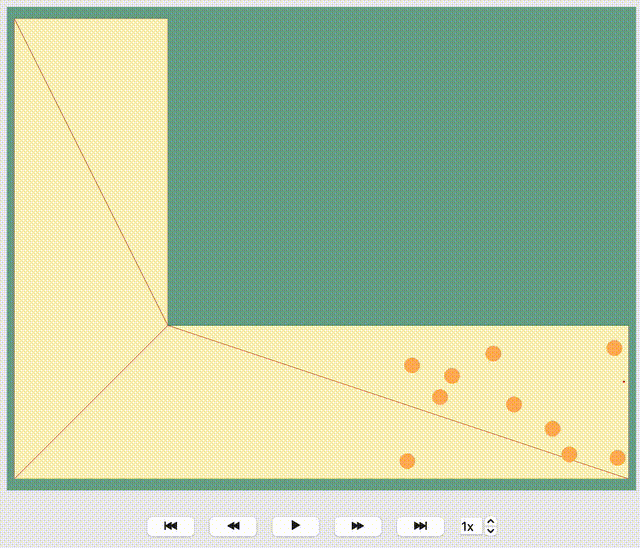 Show code cell source

Hide code cell source

from

 

shapely

 

import

 

Polygon




import

 

pathlib




import

 

pandas

 

as

 

pd




import

 

numpy

 

as

 

np




import

 

jupedsim

 

as

 

jps




import

 

pedpy




from

 

pedpy.column_identifier

 

import

 

ID_COL

,

 

FRAME_COL




import

 

matplotlib.pyplot

 

as

 

plt




from

 

matplotlib.patches

 

import

 

Circle





%

matplotlib

 inline